Rejuvenating Smooth & Silky Conditioner is an intensive conditioner that provides a silky texture, intense hydration, and luster to your hair. This product helps promote a healthier environment for your hair and scalp, leaving your hair feeling silky soft. A blend of Dead Sea minerals, sesame oil and argan oil that promotes healthy scalp, shiny hair and prevents breakage. Use after the Rejuvenating Black Mud Shampoo for optimum results.
After shampooing with Rejuvenating Black Mud Shampoo, apply the conditioner to your hair and work it in gently and evenly with your fingertips. Leave for a minute or two then rinse thoroughly.
Key Ingredient
Rejuvenating Smooth & Silky Conditioner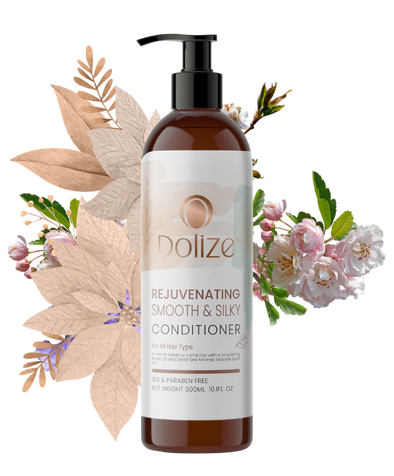 CASTOR OIL
Castor oil contains ricinoleic acid, which has been shown to stimulate hair growth. Applying castor oil to your scalp can help to improve blood circulation and nourish the hair follicles, promoting healthy hair growth.
ARGAN OIL
Rich in essential fatty acids and Vitamin E, which are known for their hydrating properties. When applied to the hair, argan oil can penetrate the hair shaft and provide deep hydration to the strands.

SHEA BUTTER
Rich in fatty acids and vitamins that can help to moisturize and nourish the hair. It can penetrate deeply into the hair shaft, providing long-lasting hydration that can help to prevent dryness and breakage.
LINSEED SEED OIL
Linseed is rich in omega-3 fatty acids, which are essential for healthy hair growth. Omega-3s can help to nourish the hair follicles and promote healthy hair growth.
Nature Power
WITH AN ABUNDANCE OF BEAUTY
Help to seal in moisture into the hair strands, preventing them from becoming dry and brittle. This improves the overall health of your hair and makes it look more hydrated, shiny, and voluminous.
Helps to smooth the cuticle layer of the hair, reducing the friction and damage that can occur during brushing, styling, or exposure to environmental factors.
Provide a protective layer to the hair, shielding it from damage caused by UV rays, heat styling tools, and other environmental stressors. This can help to prevent split ends.